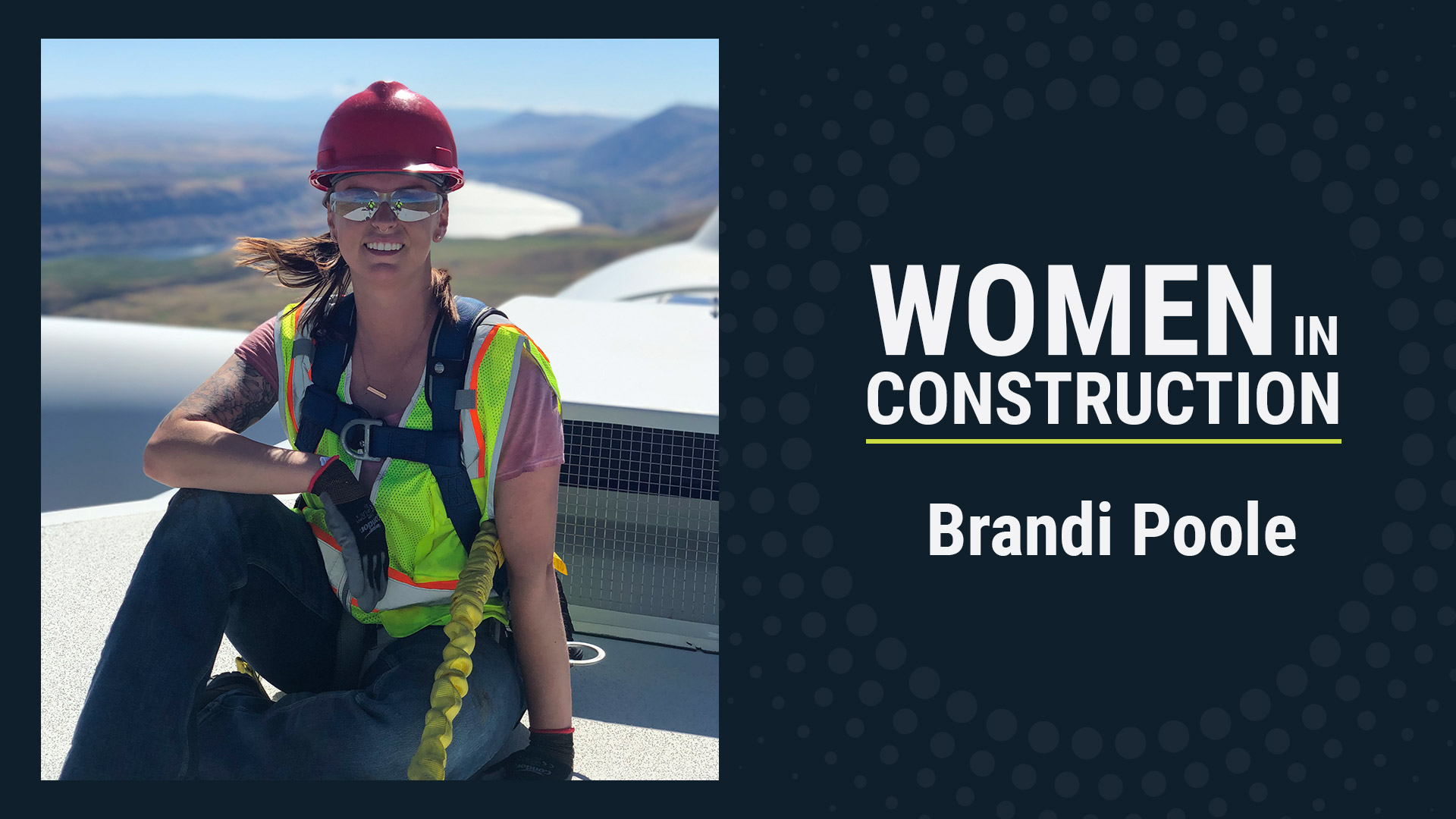 March 9, 2021
Women in Construction: Brandi Poole
On March 23, 2018, Brandi Hall (now Poole) started her first day at IEA. Having never imagined in her wildest dreams that she would work in the construction industry, Brandi leaped into the unknown and decided that if she wanted to be on the road with her boyfriend (now husband) that she would need to work alongside him. Through a single conversation with Bryan Fraysier, she was told to buy steel toe boots and the rest is history.
Starting at Goodnoe Hills as a laborer, Brandi worked in the tool room and took inventory on the wind project. Not only was she managing what was coming in and out, but she also was running parts around to different areas of the project to ensure that each site had the right supplies. Toward the end of the project, Brandi began dabbling in quality control and running the books, as well as the quality reports. From there, both Brandi and her husband, Matthew, moved to Thunderhead Wind Farm where she was lucky enough to get on the crane assembly and disassembly team. During that time, Brandi received her forklift certification, First Aid and CPR certification and an AD Rigging Assembly certification. For someone who loves actively working with her hands, the job was a dream.
After Thunderhead Wind Farm, Brandi found herself down in Baxley, Georgia on the Baxley Solar project. It was through her dedication to the team and hard work that Mike Bahr promoted her to Logistics Manager. As she transitioned into her new position, Brandi oversaw anything and everything that came on the jobsite. She accounted for every piece of equipment and also set up staging areas across the site. "I had to make sure that things were not being damaged or in some cases, that they didn't grow legs and walk away," said Poole.
As a woman in a male-dominated industry, Brandi wears her accomplishments and being a woman as a badge of honor. "While you may sometimes stick out like a sore thumb, people begin to realize that you're here to work and not just to have fun," said Poole. When asked about her favorite part of her job, Brandi immediately said the people she works with. "The individuals on the job site are like family and when you start traveling with them to different jobs, you build a relationship with them that is strong." When Brandi says "family," she means it, as a lot of her crew was invited to her wedding in Las Vegas last year.
IEA has no doubt changed Brandi and Matthew's lives and when talking on the phone with her, you can feel the smile and radiant attitude. In five years, she plans on doing exactly what she is doing now. With her love of logistics, she hopes to continually grow her craft and eventually hold a leadership title.
Thank you, Brandi, for your dedication and zest for IEA, as well as your heart and passion for putting others above yourself. It's women like you that make IEA a great place to work. Today, we specifically celebrate you and your accomplishments as a woman in construction!
All Corporate News